February 26th, 2009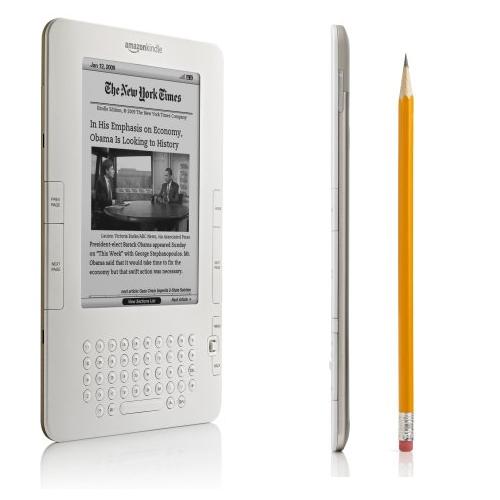 I just got my Kindle 2 last night and here are my first impressions. Downloads are extremely fast. I bought a Malcolm Gladwell book, Outliers, from the Amazon web site. Within about a minute I looked down and my Kindle was telling me it was downloaded and ready to read. I also subscribed to a few magazine free trials, like Newsweek, The New Yorker, The Motley Fool, Asimov's Science Fiction, and US News & World Report. All of them updated really quickly.
Probably the best thing about the Kindle is the screen. It really does look like a newspaper, well, even better than a newspaper. Point is, it doesn't look like a computer monitor, which is fantastic. No emitted light that tires your eyes. You can view it from all angles and touching it doesn't leave fingerprints (it's matte).
One thing I was surprised by is the weight. It's a little heavier than I expected, but still light for the size.
The case from Amazon works well (it doesn't flap around between covers).
As far as usability, the Kindle 2 does a fantastic job of taking you back to where you left off. Whether you're switching between books or periodicals, or going from reading material back to Kindle store search queries, the device always brings you back to where you left off in the most intuitive way.
In all, I'm pretty impressed and a friend who's a Kindle 1 owner says the upgrade is pretty significant. More to come after some reading.
Update 1 (3-2-09)
I'm still enamored with my new Kindle 2. I've read it in all different lighting conditions and the screen is absolutely fantastic. I did get a few fingerprints on it, from co-workers and friends trying to see if it has a touch screen (it doesn't). This is easily remedied by using optical grade glasses cleaner and a soft cloth, found at most optical shops . Spray the cloth down first and then wipe away any fingerprints and debris. Strangely, I couldn't find a cleaning recommendation in the Kindle FAQ on Amazon, so I'm offering up my own.
A co-worker mentioned that the screen could be larger, with lots of space taken up by plastic and the QWERTY keyboard. Last night while reading the Kindle 2 I discovered why that "unused" space is important – that's where you hold the device when reading in bed, on the couch, etc. If the whole thing were a screen, you'd end up with lots of fingerprints.
One thing I haven't yet been able to figure out how to do is to export my underlines, notes and clippings to the Kindle management page on Amazon. It would be nice if those ended up there automatically as a result of the wireless sync process, but I imagine that maybe I need to connect via the cable provided… which brings me to one of my minor gripes.
The USB -> micro USB cable is yet another instance of companies choosing to use hardware interface devices that prompt the consumer to have to buy expensive accessories, rather than using commonly used, existing cables they probably already have lying around. I'm sure that Kindle 2 would work just fine using USB -> mini USB, but then they wouldn't be able to sell you the $15 replacement power adapter.
For more reading on the Kindle 2 and what it does to one's consumption of literature and content, see ScooterDMan's recent Newsvine article, Kindle2 and the Return of Narrowcasting.
Update 2 (3-4-09)
Right on the heels of the release of Kindle 2, Amazon announces that they've teamed up with Apple to offer e-books and Kindle technology on the iPhone and iPod Touch. The new application for the iPhone/iPod Touch:
allows Kindle owners to access their collection of Amazon-stored electronic publications on their smaller gadgets. Using Amazon's Whispersync feature, someone can be reading an Amazon-purchased e-book on their Kindle and then seamlessly pick up where they left off on their Apple gizmo (and vice versa). Readers can also bookmark pages or make notations on one device that will carry over to the other.
I just downloaded the Kindle app and tested it out. As promised, Whispersync opened up a book I was reading on the Kindle to the right location on my iPhone 3G. I read a few pages while waiting for a friend at a restaurant, and when I returned to my Kindle later and opened up the same book, it opened up to the place where I'd left off on the iPhone. This is absolutely amazing!
One thing I did notice was that only books are available using the Kindle iPhone app at this point. Maybe they'll add the magazines, newspapers and blogs at a later date.
As a Kindle owner, I find the idea of the iPhone application to provide quite a bit of utility, at times such as waiting for a haircut at Rudy's, or other spare moments I'm without my Kindle. I don't think that consumers who are considering a Kindle will hold off on buying one, because they have access to the same books on their iPhones, simply because the backlit reading experience is good for a short amount of time, but doesn't compare to the e-reader screen that the Kindle 2 features, which is one of it's greatest selling points. If I were a betting man, I'd say that the iPhone Kindle app is a terrific move by Amazon in addition to other ones, such as Amazon Prime (another offering from Amazon that I'm a huge fan of). At the very least, the iPhone app enhances the value offered by the Kindle to existing owners. At best, more people will be introduced to reading books on mobile electronic devices and thus Kindle sales will increase, as a result.
Aside from the Amazon/Apple news, I'm happy to report that by turning off the wireless function on the Kindle 2, the battery life is extended by an order of magnitude, even when regularly left in "sleep" mode (rather than turning it off). Battery life is one of my top criteria in judging any electronic gizmo, and the Kindle 2 thus far shows great battery life between charges, unlike that pesky iPhone, which needs to be fed almost every night.
As a further testament to the profound usability of the device, I just bought one for my 76 year old father, who has always been an avid reader. A technophobe like no other, he took to the Kindle better than I've seen him adopt anything else with an electronic pulse. He was searching for books on World War 2 after just a short tutorial from me, then emailed me a couple hours later saying that he absolutely loves the Kindle and imagines that it will replace all of the books he hauls around. By comparison, after years of using a Blackberry (he really likes it for email now, but keeps another mobile phone for actual phone calls!), he just discovered that one can hold down the delete button rather than pressing it for each character to be removed, LOL! This truly makes me believe that the Kindle 2 is a device for all ages, and is the first momentous step toward ditching paper books altogether.